Products
Gift Baskets
Show your four legged friends how much you care with a gift basket especially for them. Choose from any of our bath and care products, all natural treats, quality leashes, pet and people apparel, and more. Customized to meet your needs and budget, our gift baskets are sure to please.
Bath & Care Products
Bows — $0.75
Nail Polish — $1.50
Tear Stain Remover — $2.00
Blueberry Facial — $4.00 The Blueberry Facial cleans and brightens your pet's face. The "3 in 1″ Blueberry Facial can be used as a tearless face wash, a full body shampoo, and a color brightener. It's relaxing and cleansing. Use it straight out of the bottle for tough stains or dilute 8:1. A little goes a long way. Product Features:

Tear-less
Brightening
Concentrated! Can be diluted 8 to 1*

* 8 parts water to 1 part Blueberry Facial

Bandana's — $3.00 and up
Tooth Brush and Toothpaste — $3.00
Blueberry Shampoo and Conditioner — $4.00
Paw Rub — $4.50
Fur Conditioner — $4.75
Massage Lotions — $5.00
De-Shedding Shampoo and Conditioner — $10.00
Nail Trim — $10.00
De Skunk Treatment — $10.00
Flea Treatment — $10.00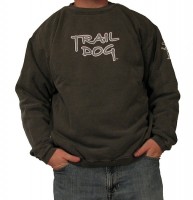 Apparel
For a look at our line of apparel, gear and more for people and pooches visit TrailDogOutfitters.com.